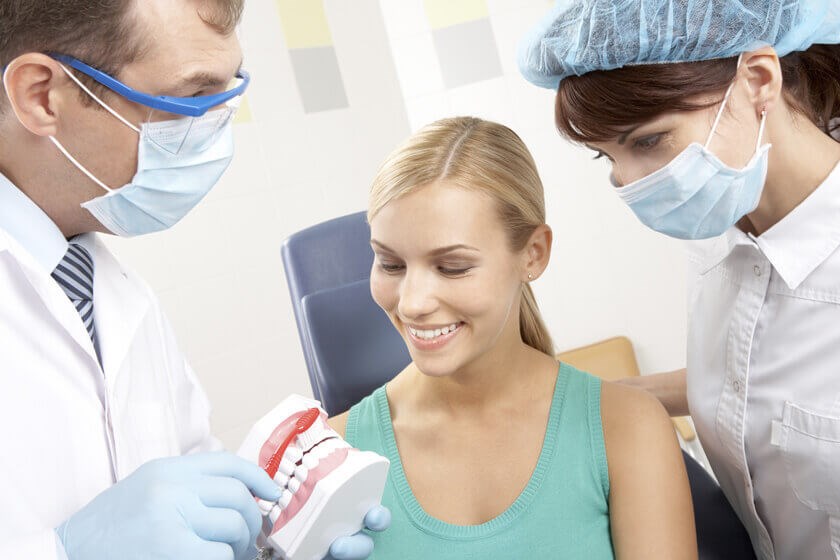 Meeting a dentist in Littleton, CO to best meet your family's dental health needs can help in making sure that you obtain the most desirable care for your teeth. Much like a family physician or primary medical care provider, a general dentist acts as the key practitioner in caring for your overall dental health, ranging from preventive services to cosmetic and reconstructive approaches. A general dentist could offer care to adults and children at every age to protect and restore dental health and function, as well as the cosmetic look of their smile. Although a general dentist is qualified and educated in complete dentistry, they are able to collaborate with dental specialists when specific kinds of procedures are required that could be better offered with more appropriate expertise.
With their broad knowledge, our general dental professionals at Clement Park Dental Care is highly trained and equipped to offer comfortable treatment for you and your family. We are pleased to work with you to restore health to your whole mouth. Dental health and the look of your teeth could vastly affect your general health and complete quality of life. Dedicated to serving your family with the utmost level of general dentistry, we provide a complete range of services to help keep your family's teeth and gums feeling and appearing their very best.
The Scope Of Primary Dentistry Care
Valuable for adult and children at every age, primary dentistry is a profession that covers a wide scope of oral health concerns. A general dentist identifies oral conditions, which involve the gums, teeth, jawbone, jaw joints (temporomandibular joints, or TMJ), and the tissues in and around the mouth. While the common, overarching goal of general dentistry is to maintain the existing dental and oral structures for normal function, a general dental professional strives to fulfill the unique needs of every patient by way of appropriate diagnoses and treatments. General dentistry procedures include professional dental cleanings and comprehensive examinations, diagnostic x-rays, fillings, dental crowns and bridges, partial or full dentures, gum disease treatment, sealants, fluoride, and athletic and nighttime mouth guards, in addition to other types of treatments.
Studies And Expertise
After a four-year undergraduate degree, general dental professionals receive four more years of extensive training in the field of dentistry. In their time spent in a dental program, a general dentist is thoroughly equipped and well-educated in a meticulous program that has both educational and clinical learning. Dentists have to then complete a thorough examination to become certified in their specific states. To maintain what they have learned and remain up to date with the latest in the industry, general dentists often complete continuing education programs each year.
Traits To Search For In A Primary Dental Professional
In the event that you are looking to meet a dental professional in Littleton, CO, it is essential to contemplate multiple traits. Picking a dentist who ensures you feel comfortable and understands your worries can be very helpful in getting dental care that is optimized for you. No matter what period of life you may be in, a general dental professional can aid you in obtaining every one of your dental requirements and can give you a gorgeous smile. Discovering a general dentist who remains current with the latest in dental treatments and methods can help bring a high quality of attention to your dental health. Many general dentists also provide aesthetic and reconstructive dentistry treatments to improve the appearance and function of your smile. If you have aesthetic concerns about your smile, selecting a practice that offers the latest advancements in cosmetic procedures might also be important in reaching your smile objectives.
Reasons To Go To A General Dentist
Going to a general dental professional for annual dental treatment and as necessary to restore your dental health has benefits that go beyond the health and appearance of your teeth. Many research studies have shown a connection between oral disease and systemic problems within additional areas of the body. Retaining good oral health could also help your general well-being and might even improve your quality of living. At Clement Park Dental Care, we hope to allow you to increase your oral health to a level that promotes a healthy life. Visiting our dentistry practice also allows you to get a range of oral health needs treated from the advantage of a central location. Here, you may get the kind of dental care your family needs throughout each stage of life, from childhood to the older adult years. Regular dental treatment and exams help our team to find oral problems and offer immediate intervention when required, typically minimizing your need for specialized and costly treatment down the road.
Ways To Know If You Need To See A Dentist
If it has been some time since you have been to visit the dentist, then it is an excellent idea to call us for complete exam to discover more about any future oral health worries. Although a number of oral problems are symptomatic or are visibly noticeable, others may be hiding below the exterior of the teeth or gums, leading to further issues without you knowing it. Routine visits, at least bi-annually, are suggested for expert dental cleanings and exams to protect optimal oral health and learn more about any treatment needs as soon as possible. Our Littleton, CO dental professionals can then let you know if more care is necessary to restore your dental health. Creating a longstanding connection with our general dentists may also better meet your needs when a dental emergency occurs and you or your loved ones require quick treatment.
Identifying The Ideal Family Dental Team
Our team at Clement Park Dental Care works to allow you and your family to access the general dentistry treatment you require for an enhanced smile and the best oral health results. We strive to make everyone feel welcome and at ease, from the initial phone call to every visit thereafter. To meet your problems in the most comprehensive way, our team offers an individualized method of addressing your oral health and performs the procedures that are optimal for your specific smile. For state-of-the-art, customized dental care in a friendly atmosphere, visit our Littleton, CO dental center and greet your new general dental professional.